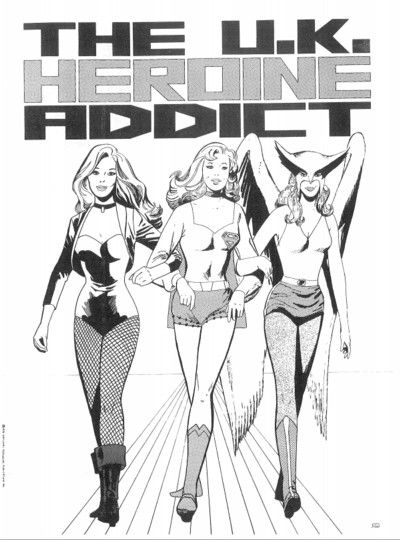 I can't pretend to remember the full details of how a British edition of the CHFC's fanzine came about, but I was able to produce a relatively slim first issue, assisted by Al Tanner and the usual US contributors, which went out to subscribers to my regular fanzine Bem along with an issue of that, as a cunning ploy to increase the club's British membership.. and thanks to the international mail system, it went to the main US membership of the club too.  The second UK issue was made in America, with rather less involvement from me and the other Bem people who had been involved, and calling on the full resources of the club.  It was a lot slicker, and with rather fine full-colour cover front and back covers by Lela Dowling.

It was certainly fun to re-read articles and columns from over thirty years ago.  I used the name "Ruan Lanihorne", from a village in Cornwall, in fanzines for my articles about British comics mainly...I was amused to see that he'd sprouted his own pen-name in the first issue here - or at least I think "Harlan Noriune" is an anagram of his name!   I also got involved with the artwork side; things were less sophisticated all those years ago, and art that was slavishly copied was useful.  The cover of the first issue here is, um, very closely based on a promotional piece by Dick Giordano, though with Lois Lane and Mary Marvel carefully removed.   Still, as a fan artist I never claimed to be original, hence the name involved...

These issues are available for download here as pdf files - how that works will depend on your browser, I guess, but with Google Chrome I get the pdf opening in a new tab here, and have to go to the "tools" spanner and opt for the "save page as" option, and then choose which folder to download to.  Right-clicking on the download button should work too...

                                                                                      - Martin Lock



The Comics Heroines Fan Club - UK